Summary: ZiFiSense, Socionext, Techsor, the core members of the ZETA Alliance will jointly develop a new generation of ZETA communication technology and standard that supports advanced M-FSK modulation. The improvements focus on the following 3 key elements: 1) High speed: the transmission rate is increased by 20 times. 2) Long distance: the sensitivity is increased by 10 dB. 3) Usage with moving objects: objects powered by printed batteries can achieve 3-5km communication distance when moving up to 60km/h.

[Cambridge (UK), Tokyo and Yokohama, October 23, 2020] Global SoC solution provider Socionext, LPWA's ZETA standard founding company ZiFiSense, and ZETA Japan Alliance's representative director company Techsor will work together to develop a new generation of ZETA communication technology and standard that supports the "Advanced M-FSK modulation method" baseband technology.

The new generation of ZETA communication technology is compatible with the new baseband technology "Advanced M-FSK modulation method" developed by ZiFisense, which is realized by using Socionext's unique RF technology and digital modulation/demodulation method. Compared with ZETA using conventional 2FSK modulation, the specific improvement has the following 3 key parameters:
1) The transmission rate is increased by 20 times. 2) The sensitivity increased by 10 dB. 3) Objects powered by low-capacity printed battery can achieve 3-5km communication distance at a speed of 60km/h.

Better performance of ZETA LPWA using "Advanced M-FSK modulation method"
There are various wireless technologies in the current IoT(Internet of Things) era. Especially LPWA (Low Power Wide Area) wireless technology, which has become an important communication infrastructure for IoT networks. LPWA technology is characterized by long distance transmission (several kilometers to tens of kilometers) and low power consumption (sensors can run on batteries for several years). On the other hand, there are common problems for LPWAs such as "low transmission rates" and "difficult to adapt to moving objects", including ZETA. In order to achieve "long distance", "high transmission rate" and "applicable to moving objects" at the same time, the physical layer of the modulation/demodulation processing needs to be improved.

To solve this problem, the "Advanced M-FSK modulation method" has been developed. First, it can be compatible with traditional low FSK modulation methods (such as 2FSK) to meet the basic LPWA requirements. Second, by increasing the FSK modulation order (for example, 256FSK) and combining special encoded communication and pilot detection technology, the signal transmission range of low-power communication can be greatly improved.

Compared with the traditional ZETA and other LPWA standards (simulation result), the transmission speed is increased by more than 20 times, the sensitivity is increased by more than 10dB, and the receiving sensitivity can reach -150dBm (standard environment).

In 800MHz, sensitivity of ZETA (Advanced M-FSK) is 5.3dB better than LoRa (CSS-chip spread spectrum).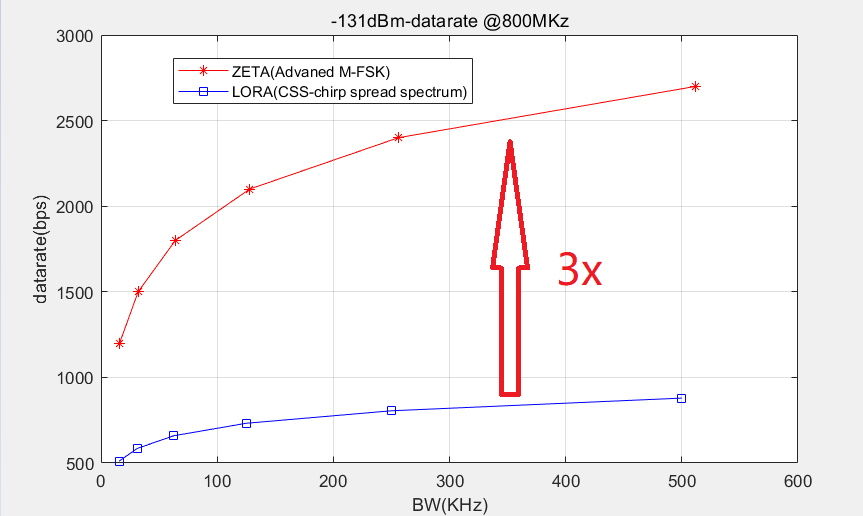 In 800MHz, transmission rate of ZETA (Advanced M-FSK) is 3 times than LoRa (CSS-chip spread spectrum).
By adopting the Advanced M-FSK modulation method, ZETA can effectively communicate with high-speed moving objects (<60km/h). The IoT product "ZETag" update by this technology has been successfully applied in the field of Warehouse Management System (WMS) . Under the same condition, doubled the access volume of ZETag, which truly realize automatically large-scale inventory of goods.
To develop physical layer of Advanced M-FSK modulation method (multi-level FSK), the next-generation ZETA chip jointly developed by Socionext, ZiFisense and Techsor will be equipped with Socionext's RF technology and digital modulation/demodulation technology. We believe that this chip will promote the large-scale use of high-performance, low-power, and low-cost IoT hardware.
The next-generation ZETA communication technology development will be started in Q1 of 2021 and plan to be installed in 2022 mass-produced chips.
Hasegawa (Socionext Automotive & Industrial Business Group Team leader)
"Following on from the collaboration with ZETag SoC announced last time, we will make maximum use of SOCIONEXT's state of the art SoC technology and high-performance RF and digital modulation and demodulation technology to realize the next generation ZETA Advanced M-FSK. We will expand IoT applications that can be applied by realizing wireless technology that can significantly improve performance compared to ZETA, which has been realized with the conventional 2FSK modulation, and is superior to other LPWAs."
Dr. Zhuoqun Li  (ZiFisense CEO)
"I look forward to cooperating with Socionext to realize higher-level ZETA wireless technology through the concept of high-performance ZETA physical layer, which cannot be easily achieved by traditional commercial products. ZETA is leading the development of LPWA technology not only at the protocol level, but also at the physical layer, which will further promote the popularization of ZETA."
Zhu Qiang  (Techsor Inc. CEO)
"Following the joint development of ZETag SoC, we are looking forward to jointly create a new generation of ZETA wireless technology with our alliance members. This kind of cooperation among alliance members will enhance ZETA's competitiveness and accelerate global expansion. Looking to the future, our cooperation will cross national boundaries and contribute to the realization of a super-intelligent society.
About Socionext
Socionext is a global, innovative enterprise that designs, develops and delivers System-on-Chip based solutions to customers worldwide. The company is focused on technologies that drive today's leading-edge applications in consumer, automotive and industrial markets. Socionext combines world-class expertise, experience, and an extensive IP portfolio to provide exceptional solutions and ensure a better quality of experience for customers. For more information, please visit
www.socionext.com/jp
.
About ZiFiSense
ZiFiSense was established in 2013 in Cambridge, England. As an LPWA technology and application service platform, the company has been committed to empowering the Internet of Things (IoT) industry. Based on ZETA with LPWAN technology, ZiFiSense has end-to-end R&D capabilities from communication hardware, wireless protocols, algorithms to software platforms, and provides IoT products and solutions, with more than 500 partners and business covering 20+ countries and regions.
About Techsor
Techsor was established in October 2016. As the only ZETA technology and product agent in Japan, Techsor cooperated with ITACCESS, Toppan Printing, and QTnet, and established the ZETA alliance in June 2018. At present, Techsor has gathered 230 cooperative companies around the world to promote the popularization and use of ZETA.
Media contact
Socionext
045-568-1006
http://www.socionext.com/jp/contact/
ZiFisense
+86-21-80198001
https://www.zifisense.com/
Techsor
03-6803-4317
https://techsor.co.jp/
The above-mentioned proprietary names (such as company names and product names) are trademarks or registered trademarks of each company. The information contained in the press release is the latest information on the day of the announcement. Can be changed at any time without notice, please understand.